My Chick Is Red Hot - Spicy Minced Chicken and Cashew Stew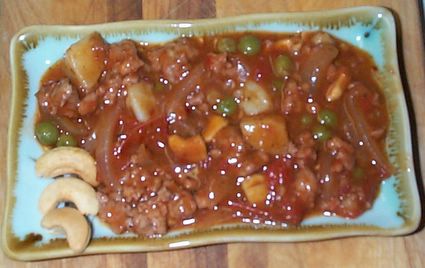 Feeling the gnaw of a bit of hunger in my belly earlier tonight, I made up this red hot recipe from scratch. Pictured above, you can see most of the ingredients of this very savoury stew: minced chicken, onion slivers, garden tomatoes (straight from the backyard), peas, potatoes, cashews.
Ingredient
1 tbsp cooking oil - canola, vegetable, or olive (the latter burns easily, so be careful).
1/2 cup of ground chicken
1 tsp Crushed red pepper flake
1-2 tsp Vietnamese/ Thai red chili paste (also known as sambal oelek)
Salt and pepper to taste
1 small onion, cut in slivers
1 small pre-boiled potato, medium diced
2 small garden tomatoes, cut into 8 wedges each
1/4 cup frozen peas
1-3 tbsp curry powder, depending on your tolerance
2-3 cups water
1 tbsp cornstarch diluted in about 1/2 cup water [optional]
5-7 partially crushed roasted cashews. (If you don't have roasted/ toasted cashews, just heat some up for 2 minutes in a bare non-stick pan with no lubricant, tossing occasionally to prevent burning.)
Preparation
Heat cooking oil at medium high in a large (10"+) non-stick frying pan.
Add ground chicken and break up pieces with a spatula.
Brown the chicken. When it is nearly brown, sprinkle on red pepper flake, add chili paste, salt and black pepper and onions. Saute for 2 minutes.
Add diced potatoes, tomato wedges, and peas. Saute for 2 minutes, breaking up tomatoes until they start to become a paste.
Sprinkle on curry powder, then add 1 cup water and stir. Reduce heat to medium and let simmer for about 2 minutes.
Add another cup of water and let simmer for another 2 minutes.
Add the final cup of water and let simmer until the liquid is almost thick.
If you like a very thick stew, add another 1/2 cup of water and let simmer for 1 minute. Drizzle in diluted corn starch, then gently mix into the dish. Turn off the heat immediately and move the pan off the heat.
Sprinkle on the broken cashews.
Presentation
Serve on steamed rice, or with toasted pita points.
(c) Copyright 2005-present, Raj Kumar Dash,
http://chilimonster.blogspot.com